My time in and around Nashville was ripe with opposites, irony, even. It is, and remains, perhaps one of the only cities in America where you can find a shooting range and a kitty cafe within a mile of one another. Where you can find the country's oldest whiskey distillery in a 'dry' county, meaning sale of alcohol is prohibited by law. Where you can find home-style Southern cooking and a health food store on the same block. Needless to say, my 48 hours here during spring of 2019 were full of surprises, and truly, thoroughly enjoyable.
My trip here in the Spring of 2019 was half spent on the road. A full day of driving from Maryland (not by me, I try not to drive, out of concern for public safety…and mine). Point is: long trip, but very worth it.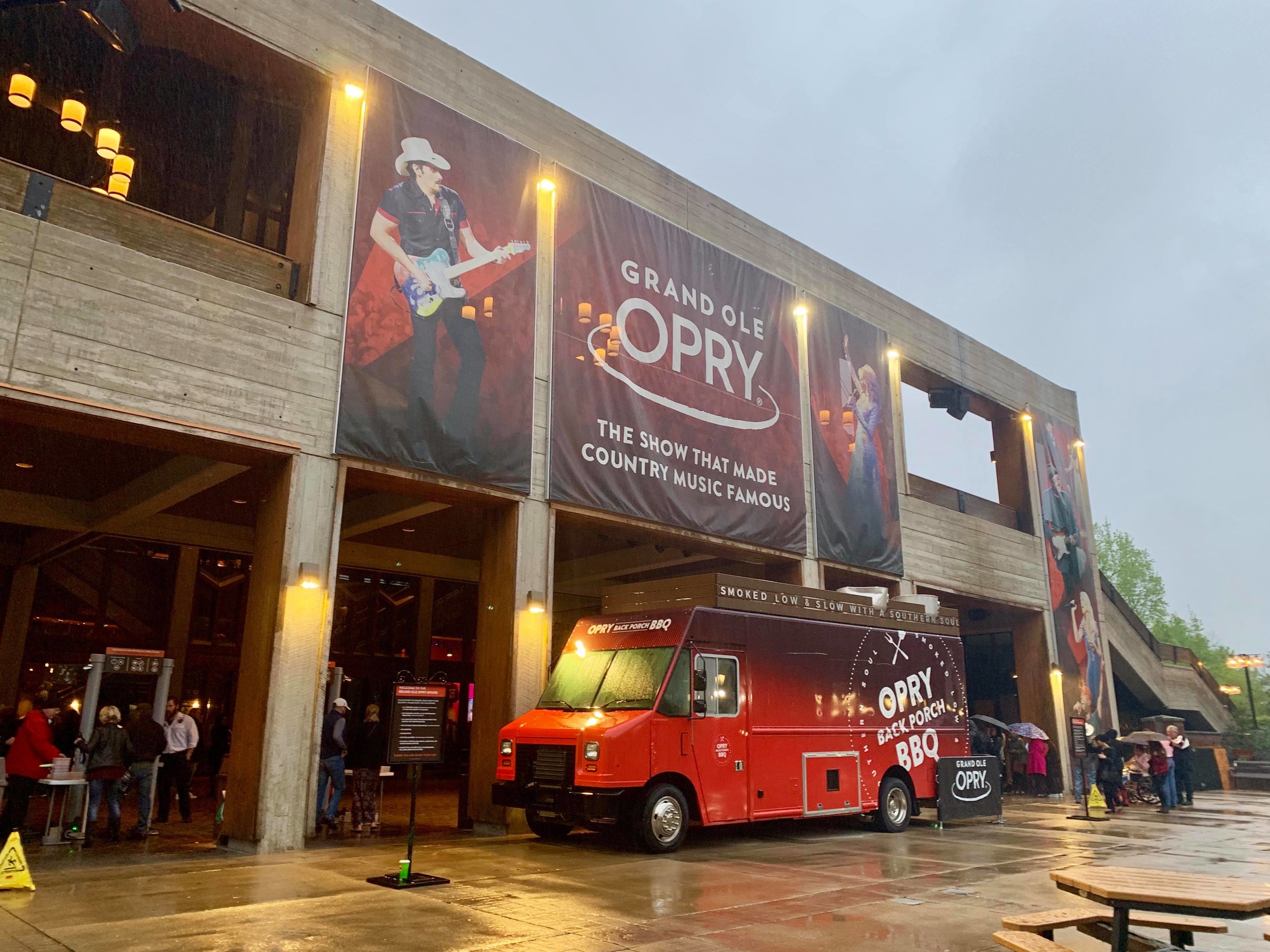 After about 10 hours of driving, our first stop - a must in this town: the Grand Ole Opry. With its beginnings as a radio show in 1925, today the venue is the world-renowned stage for country music.
Programme from the night we went. Overall a fantastic show, intercepted with some funny ads for chicken, bottled water, and boot stores - which made it all the more interesting.
See snippets of the performance taken at various points in the show below:
That fantastic show was followed by dinner at Husk - simply scrumptious, and so, so, well priced compared to Manhattan.
The following were appetizers shared by the table, menu changes daily for lunch and dinner, descriptions from the restaurant.
Cornbread in a skillet to start…
Pepper Glazed Pork Belly Lettuce Wraps, Sweet Vinegar Cucumber and Red Onion, Togarashi
KY Broadbent Country Ham, HUSK "Reserve" Pickles, Dijonnaise, Black Pepper Biscuits
Geechie Boy Johnny Cake, Minced Crab, Pea Shoots
TN Beef Tartare, Asparagus "Capers," Farro Piccolo, Miso Dressing, Cured Egg Yolk, Brioche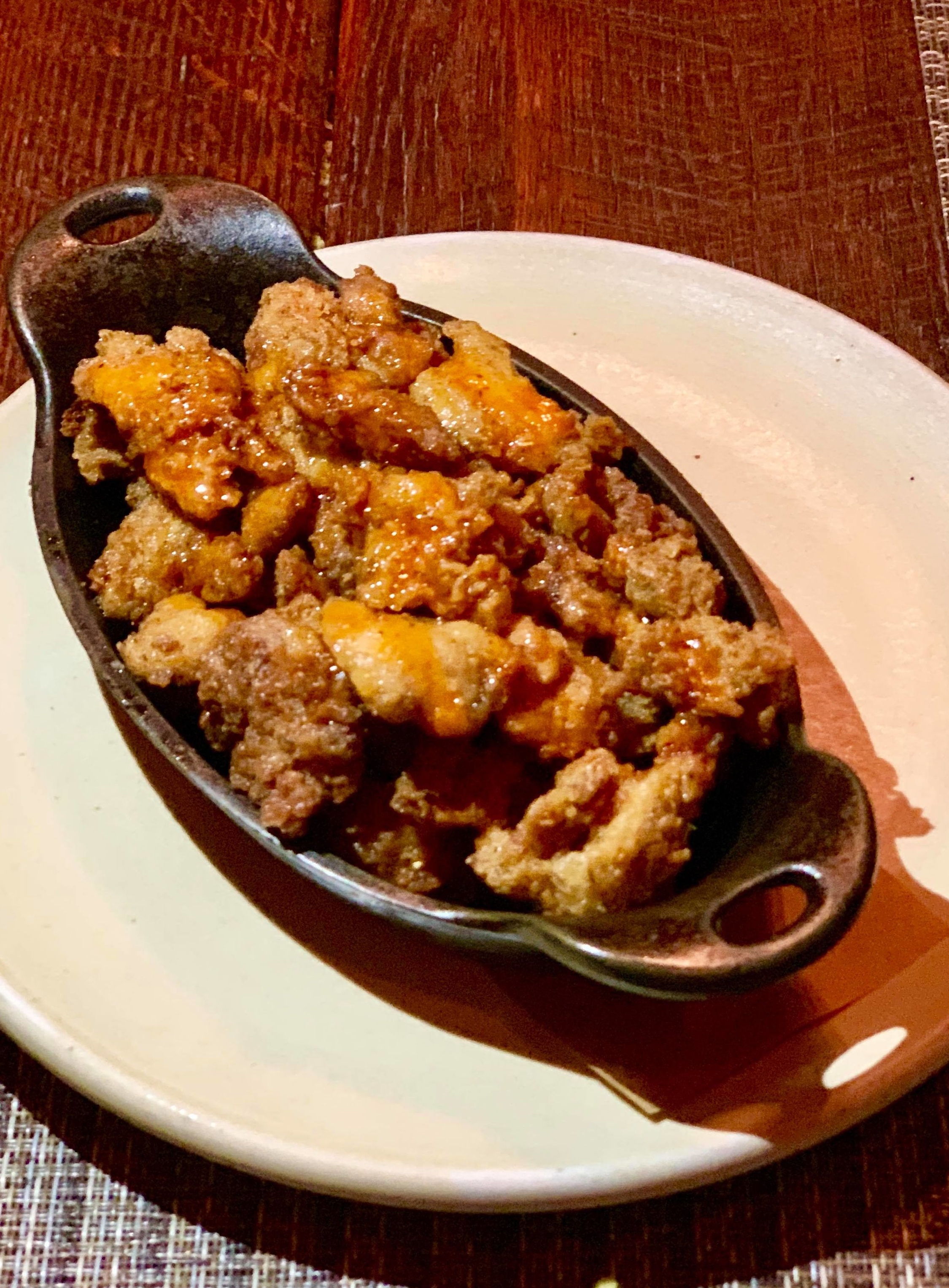 Skillet Fried Chicken Skin, drizzled in a spicy, tangy glaze
Wanting the full experience of the South, and being deeply curious, I stepped into my first shooting range ever at Nashville Armory, one of the largest and most established in the city.
Honestly? In a safe and controlled environment, it was a lot of fun. Some not-so-pro tips for first timers: 1. keep your gear on at all times when inside the range, 2. don't be tempted by the big guns on your first try, and 3. loading some firearms is harder than you'd think - don't go crazy on the bullets because chances are you won't use them all!
In search for caffeine after this decidedly nouveau experience, we happened upon Mewsic Kitty Cafe near the range. Alas, seems like it was time for something a little more wholesome.
A rather pleasant (and cute) surprise.
The cafe offers a 1/2 hour or 1 hour 'cover' for entrance into the space to hangout with the kitties, coffee and other regular cafe offerings separate. A note on the cats here - they're all available for adoption.
Full disclosure, this was actually breakfast (okay, brunch). Hattie B's is a Nashville favorite for Hot Chicken, though rumor has it that the dish originated at Prince's. Rain or shine, one piece of advice to heed is to show up when it opens. We arrived approximately 10 minutes before opening and a line was already beginning to form outside.
Luckily, however, doors opened promptly at 11AM. This classic for hot chicken has three locations in the city; order at the counter first, find a seat, and your meal is delivered to you when it's ready.
In order from top left, clockwise: half bird (spicy level: hot), small dark leg/thigh quarter (spicy level: mild), tenders (spicy level: damn hot, and they mean damn hot, trust me), peach cobbler (best I've ever had), and hot chicken sandwich (spicy level: medium).
Wondering about the single slice of pickle topping each of the dishes? We were told that, despite being notably sour, the pickles are there to help with reduce spiciness. Apparently they help to breakdown the capsaicin, the 'active ingredient' in spicy food.
Plenty of ranch sauce is also provided on the side of each order. And if you're feeling extra adventurous (read: foolish), there is also an uber spicy sauce for order on the side. Upon delivery, the sauce comes with a warning from the server to be careful of touching the sauce, and that it will irrevocably stain clothes. But apparently you can ingest it?
Don't forget about the sides - top to bottom, counter-clockwise: creamy coleslaw, red skin potato salad, baked beans (these were really good), pimento mac and cheese, and southern greens.
About an hour and a half outside of Nashville, located in Lynchburg, Tennessee, is Jack Daniel's Distillery. Highly recommend stopping by if you are in town.
The in-depth tour they offer on premise takes visitors on an overview of the whiskey making process, from the creation of the coal used for filtration (seen below, though there were no burning taking place that day), to distillation, bottling, and maturation.
Photos are prohibited on many parts of the tour, below is taken just outside their filtration and distillation facilities.
The historical barrel house used to house much of Jack Daniels' aging whiskey. Today half of the space within has been refurbished to create two class ensconced tasting rooms, seen in the video below.
From left to right, we were given samples of Gentleman Jack, the original No. 7, Jack Daniel's Rye, Honey, and Fireball. I preferred Gentleman Jack as it was smoother compared to the other tastings.
Did I mention that the town the distillery is located in is a 'dry' county? As in, though it might be home to the oldest liquor production facility in America, it is, in fact, illegal to sell alcohol here?
This is naturally the reason the distillery's gift shop isn't a place to purchase liquor, but merely a place to buy souvenir bottles that happen to have alcohol inside.
Similarly, our tasting above was only legalized in the last few years, as the county deemed vendors should be able to offer samples of their product, and if that product happened to be whiskey, so be it.
Night in 'Nashvegas'
The bar scene in Nashville, or 'Nashvegas', as one friend so eloquently put it, is not to be missed for the live performances on offer at every bar and restaurant. Most of it is located in historic downtown, on Broadway or in its immediate vicinity. Lower Broadway, in particular, is an area steeped in country music history, as it is home to the Ryman Auditorium, original home of the Grand Ole Opry.
You'll see quite a few of these going around in the Broadway area. Don't do it. Or do, up to you. I have no comment.
First stop of the night: Robert's Western World
Robert's Western World is one of the staples along lower Broadway for solid drinks and a great bite to eat. Open during the day as a boot store, at night it features live performances and serves up delicious morsels of food to accompany your beer at the Honky Tonk Grill.
If you stop by, be sure to order a fried bologna sandwich at the grill - famous across town and definitely worth the hype.
Live music is both a must and an inevitability on any night out in Nashville. Simply put, all the performances are pretty much fantastic.
Having come highly recommended, this bar definitely didn't disappoint. Located on the second floor, the large outdoor patio also makes for a great place for conversation, and to get some air.
Yet another great live music venue. Drinks were poured. Performances were seen. Good times were had and all was well.
Below is what I believe to be a performance by Natalie Brady Band:
Stop #4: Old Glory (highly recommended speakeasy near Music Row)
With its entrance located in an alleyway, Old Glory might be the most mysterious place to grab a drink in all of Nashville.
Located in an old boiler room for cleaners that have long shuttered, the space is as intriguing as one descends the stairs into the lounge area.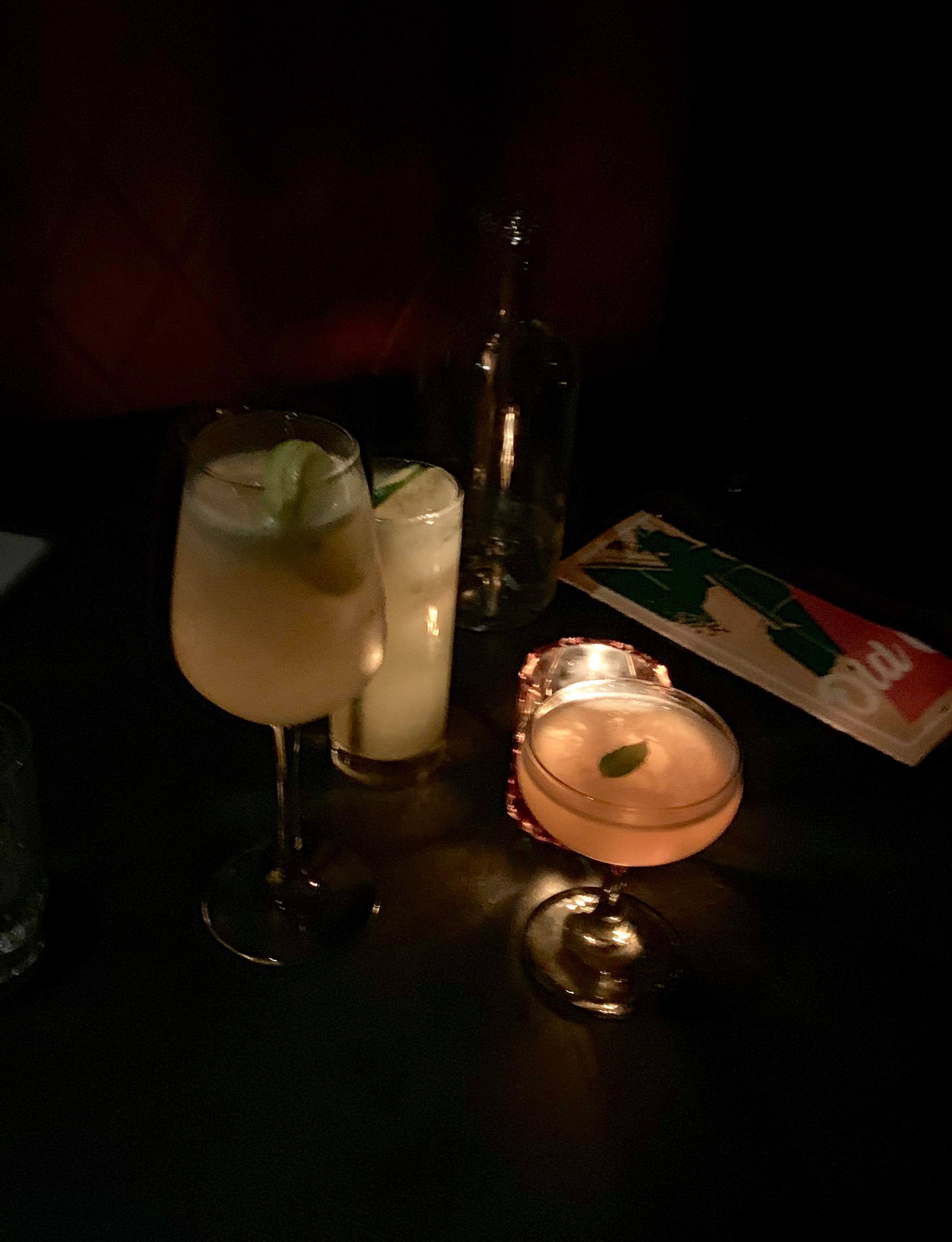 While drinks here will run you slightly more than your average dive-bar well G&T, the space is definitely worth checking out.
Stop #5 and last but not least: Dino's
A Nashville institution, this bar was still bustling with patrons well into the AM, it being a favorite among locals. I was drawn here as it was visited by Anthony Bourdain for his Nashville episode of Parts Unknown, a longtime favorite show of mine.
Order their Velveeta fries. A near-perfect way to end the night, if you still remember anything by this point, that is.
All in all, a fantastic night out in the city.
The next morning
Not where'd you except a full-scale replica of Greek architecture, Millennium Park features the largest replica of the Parthenon outside of Athens.
Especially on a sunny day like this one, the park is hugely popular with locals. It helps that Vanderbilt is right next door as well.
To start: chips and guac - the guacamole reminded me of Chipotle's, but better and with more chunks of avocado inside. Not pictured are their frozen margaritas, which are really, really good.So if you're up for hair of the dog, look no further.
A Nashville favorite, Taco Mamacita offers patrons a selection of any two tacos and a side for $10. Side pictured is Mexican street corn.
Some of their most popular choices include the Taco Royale (below, right): "a double-stacked taco filled with roasted chicken, salsa verde, shredded lettuce, pico de gallo, crumbled chorizo, creamy black bean mash and chipotle cream sauce," and Korean BBQ (above, left) "red pickled onion, Korean BBQ sauce, braised beef short rib, Sriracha cream sauce, cilantro, cabbage and radish."
As we were here on a Sunday, we also got to order from their brunch menu. Pictured below, the Lucha Biscuit, a scrumptious 'open faced biscuit, over-easy egg, bacon, chorizo, pico de gallo, chipotle cream and queso.' Side of sweet potato fries. Yum
Though short, the 48, really 36, hours I spent in Nashville proved the city to be true to its slogan - it really is music city. Everywhere we went there was music, either in the background or featured prominently (aka in every bar on Broadway). Having done some research prior to arrival, I knew the dining scene in Nashville has been solidly awesome for quite some time now, but still the price-to-quality ratio surprised me. Because the last day we spent here was Easter Sunday, most stores in the city were closed, so alas, I missed out on the famous Prince's hot chicken shack. All the more reason to come back - and I most certainly will.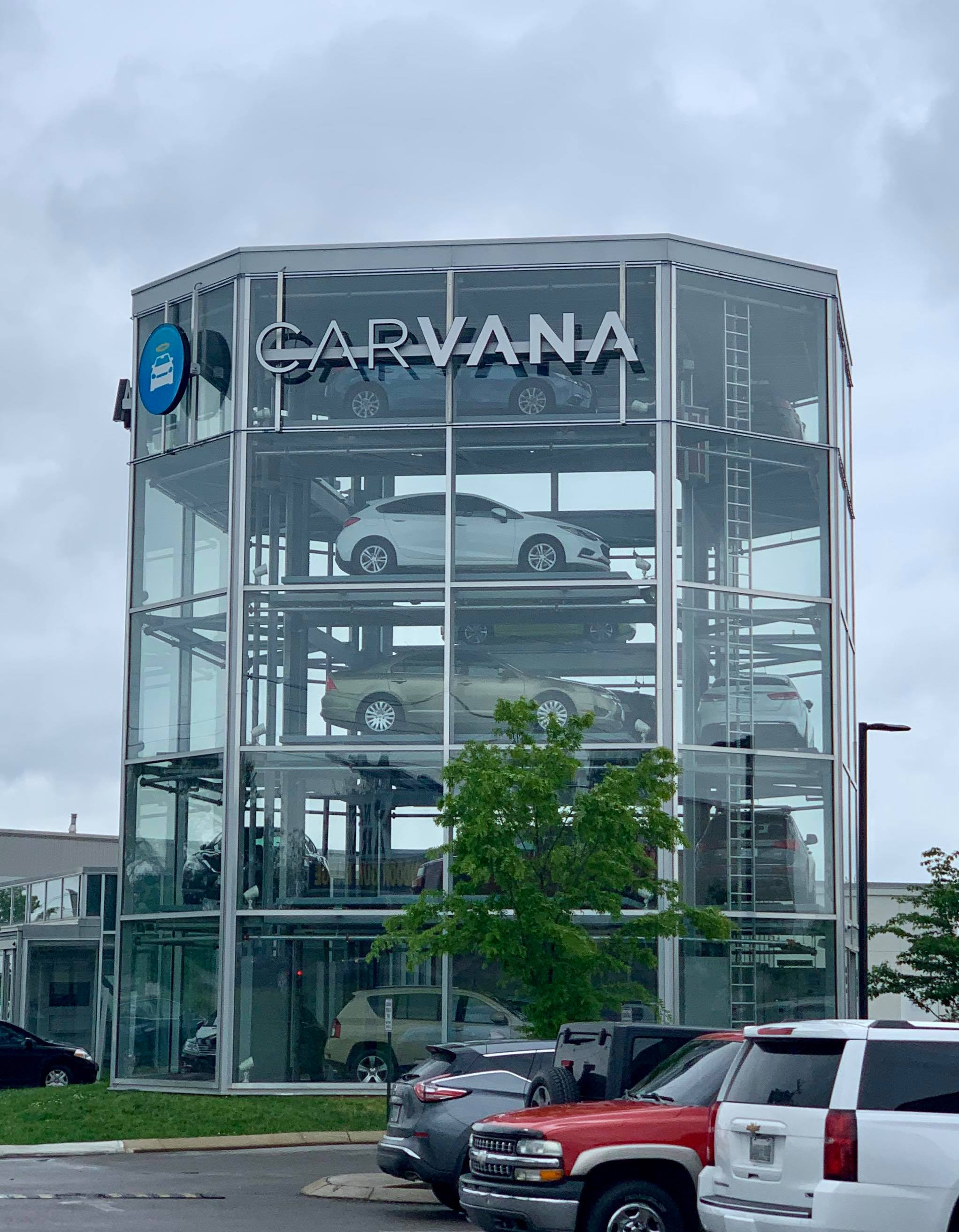 Last but not least, I'll leave you with this whimsical discovery: Carvana. Apparently, the structure pictured is essentially a vending machine for cars. Maybe its common elsewhere, but I'd never seen one of those before.
Oh Nashville, you never cease to surprise me.