My time in Lisbon during September of 2018 was filled with, in true Portuguese fashion, egg tarts, or Pastéis de Nata, coupled with Ginjinha, or local sour cherry liquor. Compared to Porto, Lisbon was definitely the more modern, larger capital of the nation, though each city has its distinct flavor and flair. When in Lisbon, one should be sure to take a day trip to the famed Pena Palace, one of the most historically significant (and popular) castles in Portugal.
Though a large city, many parts of Lisbon are quite walk-able, especially the old city. If you want to avoid trekking up and down the hilly slopes, however, why not hop on a classic Remodelado tram to navigate your way around the city? Seen below the iconic Tram 28, which has been serving the cobblestone roads of the historic Alfama district for dozens of years.
Fares can be purchased on-board for 3 euros for a single trip, though it may be more cost efficient to buy a whole day fare for ~6 euros at the metro stations.
If one has the time and energy, however, on foot is truly a great way to explore this historic city.
There are many lookout points to choose from in the winding streets within the older districts of Lisbon. Some of the more famous sites with a view of the city include the São Jorge Castle, the Miradouro da Graça, and Miradouro Sao Pedro de Alcantara. (Miradouro, in case you haven't guessed it, means viewpoint in Portuguese).
Opting for something a little more out of the way, we chose the Miradouro de Santa Luzia, which also offered up an impressive platform upon which to see the city.
Many of the miradouros in the city will have cafes and restaurants on the terraces with views of the city below.
Definitely stop by for a bite to eat and a drink (or two), and take in the endless sea of red tile roofs and the Tagus River in the distance.
Santa Justa Lift
Opened in 1899, the iconic Neo-Gothic elevator stands out among the sea of buildings in the Santa Justa district of Lisbon. Originally built to connect lower and higher streets among the uneven terrain in the city, since its operation the elevator has been a popular attraction for tourists. Indeed, even more than a hundred years later there was a line that wrapped around the structure of visitors waiting for a turn on the ancient lift. We personally opted not to personally experience the ride, though it is said there are great views of the city at the top.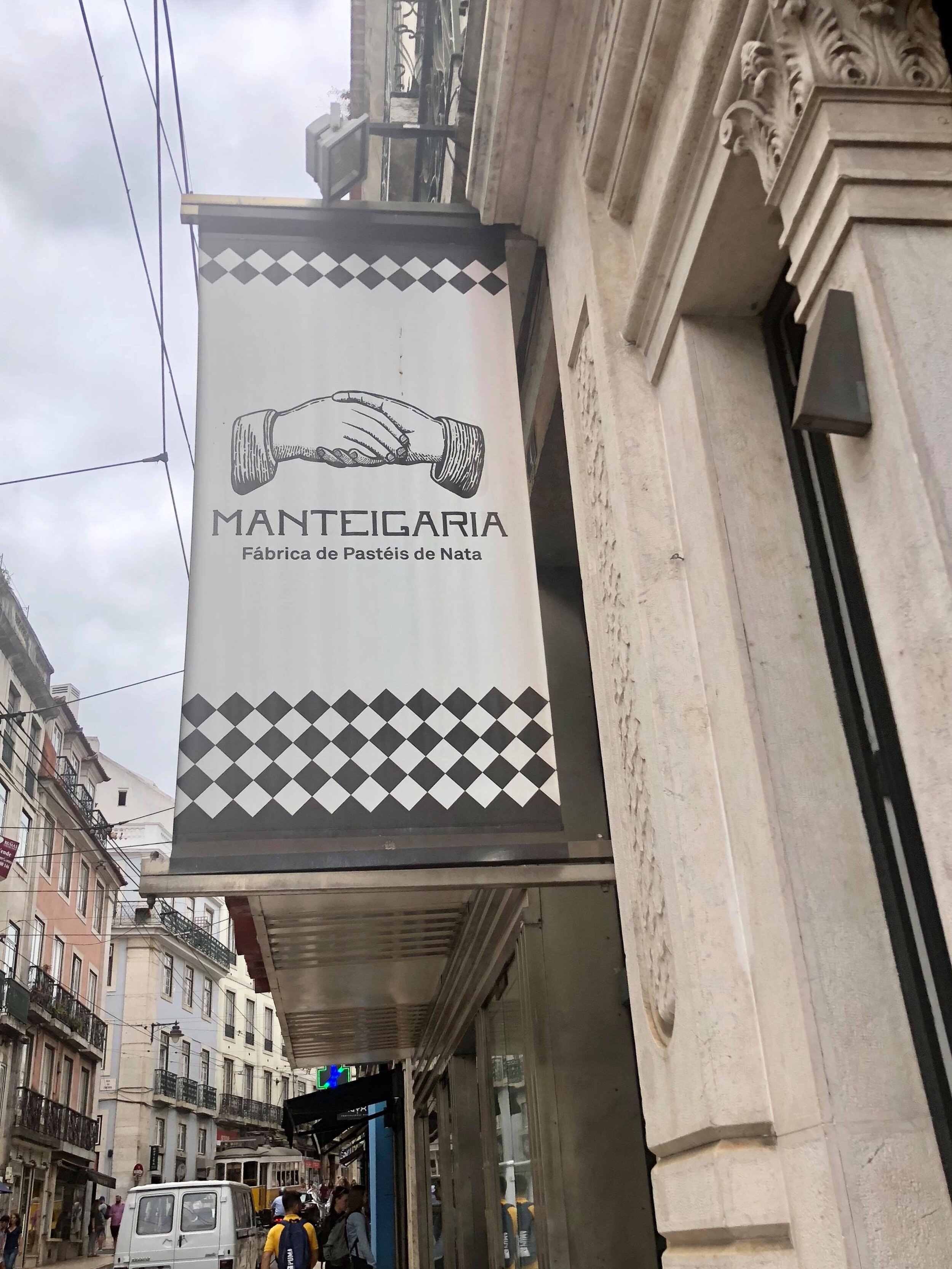 Popular Choice - A must-try stop for devotees of the egg tart, the pastels de nata here are heavy on the custard, and lighter on the pastry, but none-the-less a decadent, eggy treat.
Open till midnight, this egg tart factory leaves nothing to the imagination when it comes to the creation of these delicious pastries. Behind a glass wall, visitors can observe from start to finish how Portugal's most famous dessert comes to life.
Enjoy the traditional way, with a shot of Ginjinha (aka Ginja), a type of sour cherry liqueur.. Ubiquitous in Portuguese establishments large and small, this type of liqueur was traditionally brewed by monks, whom had Ginja berries (similar to cherries) in abundance.
Home of the Original
Commonly credited with the invention of the iconic egg tart, Pastéis de Belem is frequently hailed as the origin where they are first produced. Though somewhat out of the way from Lisbon center, lines can quickly form during peak hours as the monastery and other sites are nearby, so be sure to stop by early (hours are 8AM - 11PM daily).
One might have noticed that the term Pastéis de nata and Pastéis de belem are used interchangeably when referring to egg tarts. However, its important to note that only the egg tarts produced at this confectionery can be called Pastéis de belem (it's even trademarked!) Indeed, the secret recipe is so closely guarded that it has only been passed down to the master confectioners of the shop for well over a century,
The first Pastéis de Belem can be traced back to the early 1800s. After the shutdown of most monasteries in 1834, monks from the Jerónimos Monastery leveraged the nearby sugar cane refinery and began to sell these sweet tarts as a means of survival. The pastries quickly became popular with the many visitors of the Belem Tower nearby, and thereafter came to be know as Pastéis de Belém.
Sweet, rich, and luxuriously indulgent, the custard center of the Pastéis de Belém was burnt just enough on the top for the flavor of caramelization to come through. The shell is flakier and slightly crunchier than the Pastéis de nata I previously sampled. All elements of the pastry combine to form a nearly perfect sweet treat, and it's not hard to see why Portuguese egg tarts have gained popularity around the world. My favorite, however, might remain those from KFC outlets in China. Don't be offended!
Requiring nearly 100 years to complete, construction of the present church and monastery began in 1501. After completion, Hieronymite monks resided here for some four centuries, and it wasn't until the mid 1833 were they forced to vacate (incidentally, leading to the creation of Pasteis de Belem noted above).
An archetype of the Manueline style of architecture frequently seen in Portuguese constructions of the early 16th century, this "decorative style is characterized by virtuoso complex ornamentation in portals, windows, columns and arcades," per Wikipedia.
The monastery is constructed in a cloister, with large arches dominating the 55x55 meter square courtyard. Seen here, one can observe with abundance the semicircular arches (instead of Gothic pointed arches) of doors and windows, sometimes consisting of three or more convex curves, and columns carved like twisted strands of rope.
In addition, the Manueline style is defined by frequent elements from the sea, such as shells, pearls and strings of seaweed, and botanical motifs such as laurel branches, oak leaves, acorns, poppy capsules, corncobs, thistles.
interior of the Church of Santa Maria

A stunning sight, especially keeping the fact that the vaulted ceiling was constructed in the early 16th century.
view from the second level balcony
Spanish architect and sculptor Juan de Castilho oversaw the finishing design and construction of the church. Today the interior also houses some remains of the Royal family: the tombs on the left side of the choir belong to king Manuel I (whom ordered the construction of the church and monastery) and his wife Maria of Aragon, while the tombs on the right side belong to King João III and his wife Queen Catherine of Austria.
Belém Tower

The name sake of the entire area, and the reason Pasteis the Belem are named as such, this tower was an classic sight for visitors to the area for centuries. Also a classic exemplar of the Manueline style, the tower was constructed in the 16th century as a fortress and as a ceremonial gateway to Lisbon. Crafted from lioz limestone, the tower actually sits atop a small island in the Tagus River, and as such is connected to the shore by a bridge.
where to eat - Taberna da Rua das Flores
Situated off a square in the Barrio Alto district, this narrow but not-to-be-missed eatery serves up local cuisine that has long been well-liked by locals and visitors alike. I highly recommend coming for dinner (we were here for lunch as I had a flight that evening), but with no reservations, lines are a frequent sight at the door of the taberna.
When in Portugal, start off lunch with a drink, and some freshly baked artisanal bread, olives and olive oil. As common in many European eateries, the house wine, in this case rosé, is also a delight.
The menu here rotates daily, and typically features fresh ingredients from all parts of Portugal. Before you ask for a menu, notice the selections of the day written on blackboards around the restaurant.
Seen here - leek cream soup, light and refreshing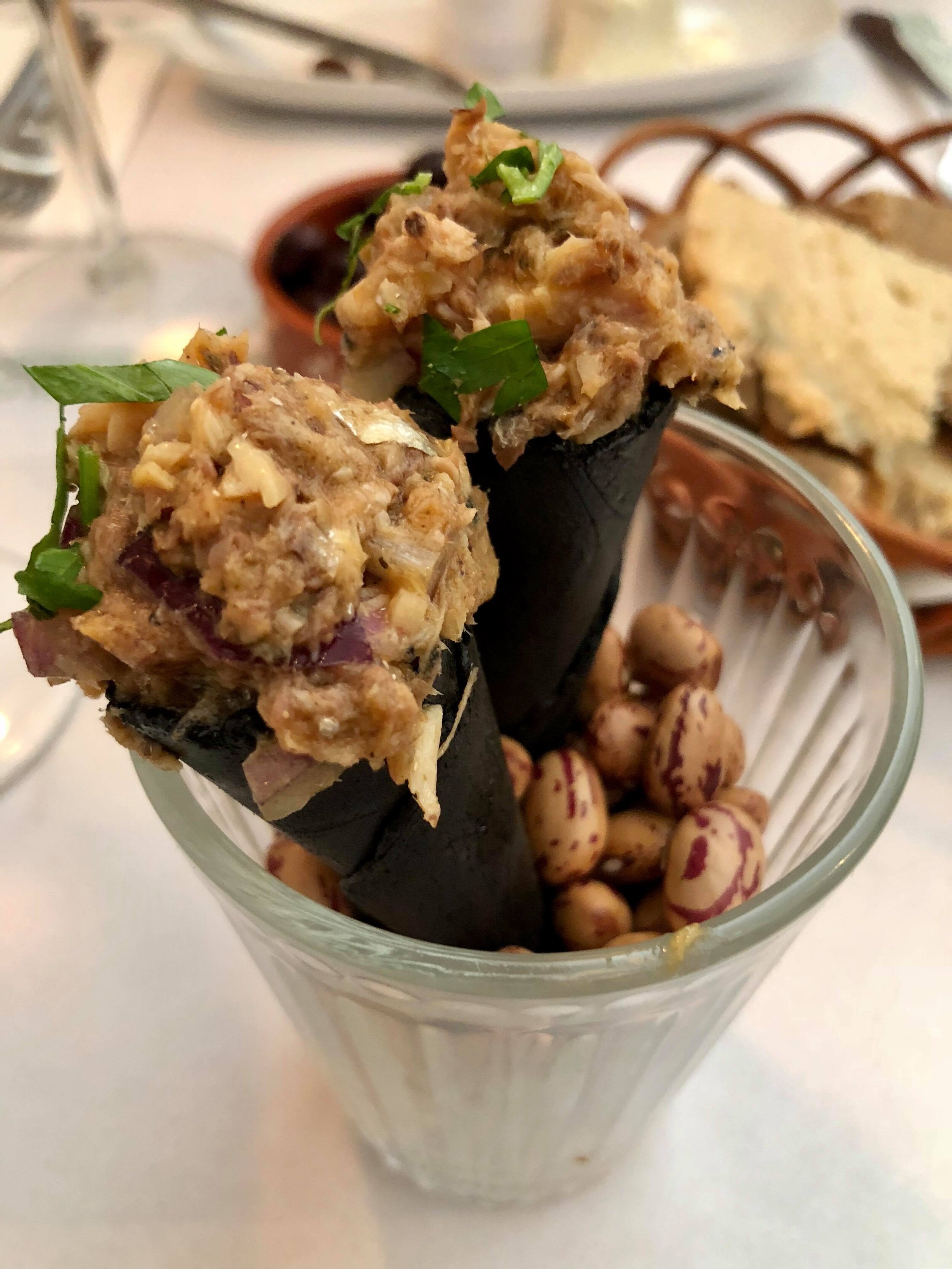 Similar to the tapas culture of Spain, the Portuguese culture is also one that loves to share. As such, small snacks like this can be found throughout the menu. Seen here are two 'cone de sardinha de conserva de pinhais,' quite literally pickled sardine cones. They were served standing up in a glass cup of raw beans, beans not edible (I didn't try, promise!)
Perhaps not as commonly consumed in North America, it seems the Portuguese have also garnered an appreciation for liver. Seen here stewed (sauteed then sauced?) liver flavored with garlic slices, bay leaves, and parsley. An fortifying meal, if somewhat distinct in taste (slightly metallic) and texture (chewy) for those not accustomed to eating liver. As liver was also something I myself grew up eating, however, I enjoyed the dish.
"Queijo de ovelha con pimento da terra"
Sheep cheese with ground pepper
patterns from the interior
the town of sintra - where & what to eat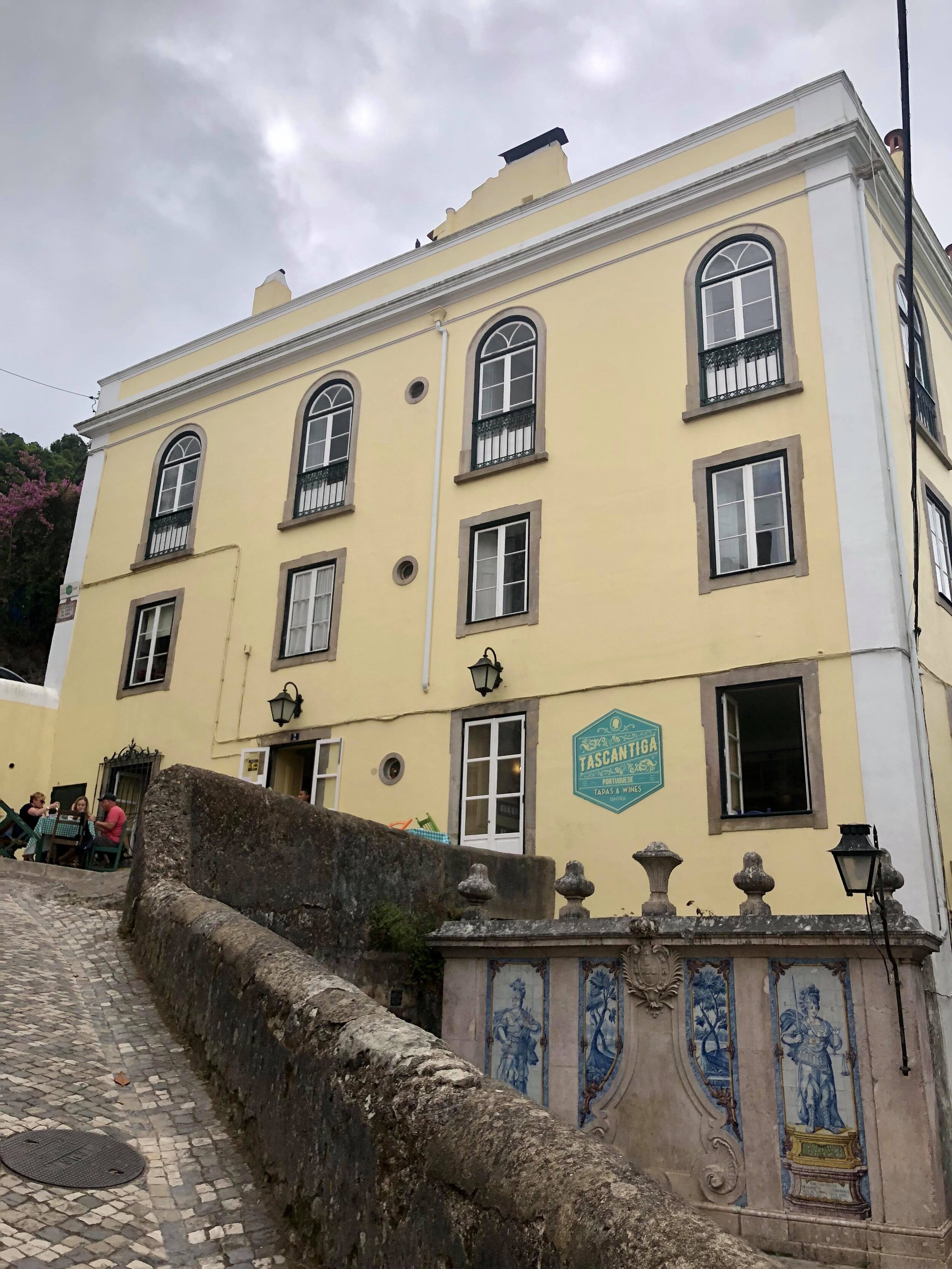 In the actual town of Sintra, amid cobblestone streets and twisting alleyways, and while looking for a place to eat, we came upon Tascantina. Ok, I'll admit it - we found the restaurant looking at reviews online - this one had essentially 5 star reviews from thousands of people, so it must've been worth a visit (right?)
And indeed, popular opinion did not disappoint (as we all know, sometimes it does), Tascantina is indeed a great place to stop by for a bite to eat in the old town of Sintra.
Their menu is made of small plates meant to be shared, and reminded me of those found at dimsum restaurants (you mark selections on the menu itself with a pencil.)
Seen here, slightly baked soft cheese (I want to say…brie?) with a sweet onion sauce, and bread, of course!
Bottom, "bochechas de porco confittas com cogumelos" - candied pork cheeks
Middle right, prosciutto and balls of melon, sweet, light, flavorful yet refreshing, always love the ham and melon combo
Finally, a classic ham and cheese (really prosciutto and Parmesan shavings) on an open face sandwich, with a delightful side of 'batatas gomo' or seasoned potato wedges.
P.S. Prefer fries instead? Ask for 'batatas palito,' literally potato sticks, to get 'em served the french way.
While in the town of Sintra, be sure to stop by the famed pastry outlet Casa Piriquita, typically identified by its crowded interior or line out the door. Insider tip - if you're buying to go, be sure to take a number as soon as you step inside! Don't get befuddled by the lines - they'll call out numbers to determine who's next!
Travesseiros of Piriquita…
…is the must-try pastry here. Made on-site, this flaky, almond cream filled pastry is what Piriquita, and the town, is known for in similar fashion to the Pasteis de Belem
Another popular opinion, if you have a sweet tooth, are queijadas (not pictured), which are essentially tarts made of cheese, milk, eggs, and sugar.